Globalization
YU Heads toward the World!
The World Heads towards YU!
Global partnership with 413 universities & institutes in 53 countries
Yeungnam University is high lightening its international facet by exchanging faculty members and students with prominent universities such as Michigan Technological University, UC Davis, Tsinghua University, Hong Kong University of Science & Technology, Indian Institute of Technology, University of Adelaide, University of Strasbourg, Universidade de Sao Paulo, Pontificia Universidad Catolica de Chile, Universidad Nacional Autonoma De Mexico, and more.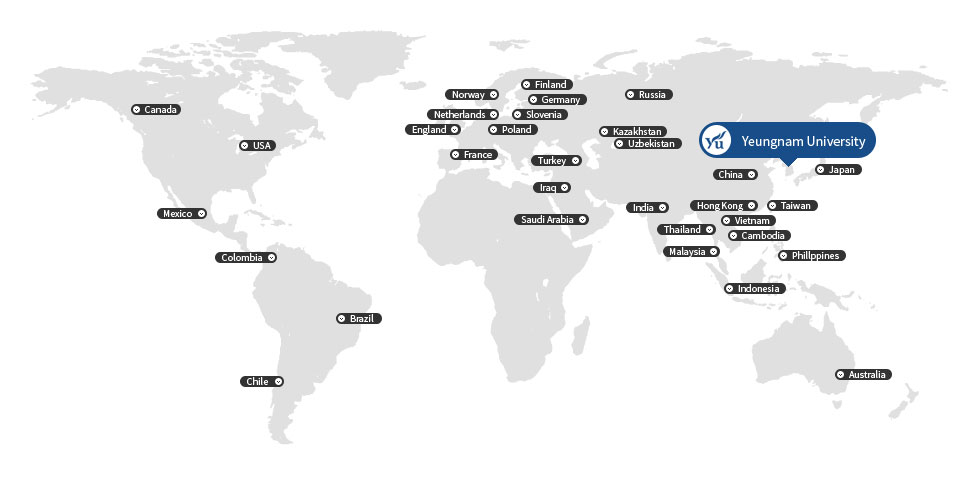 * As of December, 2017
---
"Yeungnam University is moving toward the world for new challenges."
The scope of Yeungnam University's education ranges to the world. With a high caliber of International Exchange Programs, Yeungnam University aims to be one of top universities in the world.
2016

19 Countries / 328

2017

17 Countries / 322

2018

22 Countries / 297
(As of March, 2019)
Number of Outgoing Exchange Students
---
"The world gathers into Yeungnam University."
Students at YU are growing up as global talents by studying together with international students from all over the world.
2016

20 Countries / 313

2017

24 Countries / 305

2018

22 Countries / 277
(As of March, 2019)
Number of Incoming Exchange Students